The Chocolate Layer Cake Event of the Year!
15 CHOCOLATE LAYER CAKES COMPETE
Download a single 8.5 x 11″ Flyer or a 4 x 5″ Double Flyer (2 on one sheet)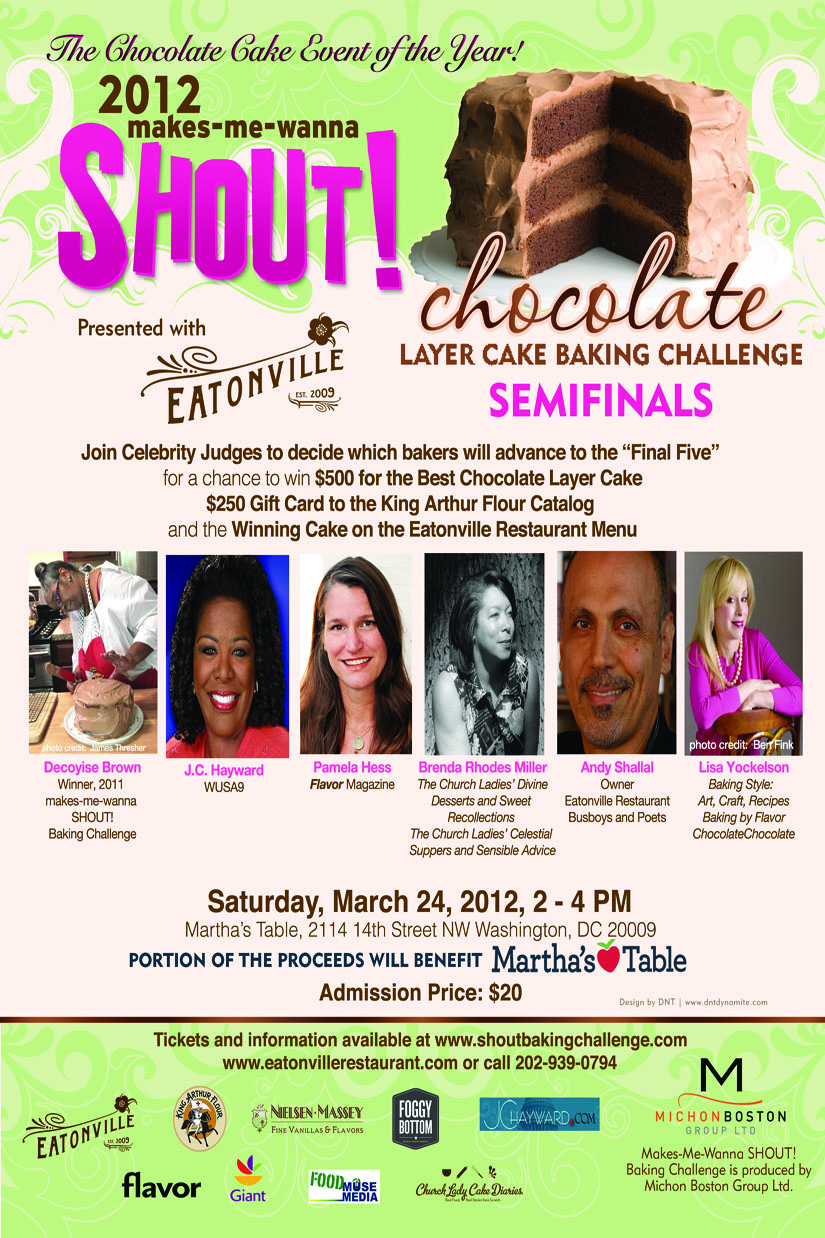 Tickets are available for the Semifinals for the Makes-Me-Wanna SHOUT! Chocolate Layer Cake Baking Challenge presented with Eatonville Restaurant. Admission is $20/person and includes a $15 donation to Martha's Table, the 2012 beneficiary for the cake challenge. The Semifinals event will be held at Martha's Table located at 2114 14th Street, NW.
Chocolate Cake lovers are invited to join the official contest judges in selecting the top 5 chocolate cakes for the Final Five at Eatonville Restaurant in April and a chance to win $500 cash award, $250 gift card from King Arthur Flour for their online catalog, their winning cake on the Eatonville Restaurant dessert menu and all the honors, attention and praise that goes with having the DC area's best chocolate layer cake.
Semifinals Chocolate Layer Cake Menu
Malted Milk Ball Birthday Cake

Chocolate Trio Cake

Chocolate Almond Coconut Cake with Chocolate Almond Filing

4-Layer Chocolate Cream Cake

Dark Chocolate Chai Cake with Salted Caramel Buttercream

Emma's Labella Chocolate Cake

"Lucifer's Revenge" (chocolate cake with Mandarin oranges and Grand Marnier)

Chocolate-Orange-Mocha Layer Cake

Dark Chocolate Cardamom Sponge Cake with Rosewater Buttercream

Chocolate Cake with Chocolate Hazelnut Buttercream

Candi's Spiced Chocolate, Coffee Caramel with White & Dark Ganache Cake and Toasted Spiced Pecans

Friendship Chocolate Cake (with Nutella filling)

"The Ora" White Chocolate Cherry Cream Cheese Red Bliss Cake

Rodney Mason's Chocolate Layer Cake with Chocolate Cream Cheese Frosting

Helen's Heavenly Mocha White & Milk Chocolate Glazed Chocolate Mayonnaise Cake with White and Milk Chocolate Buttercream Frosting
The Semifinalists: Luke Johnson (DC); Jaryl Alloway (Bristow, VA); Austin Brown (DC); Jennifer Donald (Accokeek, MD); Amy Eisinger (Kensington, MD); Valery Flood-Smith (Ft. Washington, MD); Sophina Gross (DC); Tiffany Hall (Brentwood, MD); Cristen Kennedy (Hyattsville, MD); Rodney Mason (DC); Christine Perez (DC); Kary Semborski (DC); Karima Simmons (DC); Adrian Turner (Haymarket, VA); and Daryl Wright (DC). Semifinalists' "cake stories" will be posted on www.shoutbakingchallenge before the Semifinals.